Understanding YourRegenerative Healing Options
Dr. Brian Shiple discusses the various regenerative injection treatment options and how they work.
We invite you to click below for education videos
designed to help educate you about your treatment options.
Regenerative Injection Treatment
There are four types of Regenerative Injection Treatment or RIT — prolotherapy, neural fascial prolotherapy, platelet-rich plasma (PRP) injection, and autologous stem cell injection (ASCI). Each of these techniques uses the patient's own physical healing powers to create a bridge between conservative standard of care treatments and surgery for musculoskeletal injuries and arthritis. They are relatively non-invasive and comparatively inexpensive. They can heal acute and chronic tendon, ligament, and cartilage injuries — torn meniscus, plantar fasciitis, carpal tunnel syndrome, and tennis elbow among others — as well as arthritic joint pain. C. Evert Koop, former surgeon general of the United States is a proponent of RIT. Professional, elite amateur, Olympic and recreational athletes have all benefited from these treatments.
At least forty-five percent of nearly 100 million people in the USA with musculoskeletal problems have injuries that affect tendons and ligaments. Until the advent of regenerative injection therapy (RIT) these patients had very few treatment options. While surgery can sometimes repair torn tendons, cartilage, or ligaments, it can also precipitate or exacerbate arthritis. RIT not only bridges a critical gap in conventional treatments, but it also can offer relief to people suffering from conditions that previously had little chance for an effective treatment.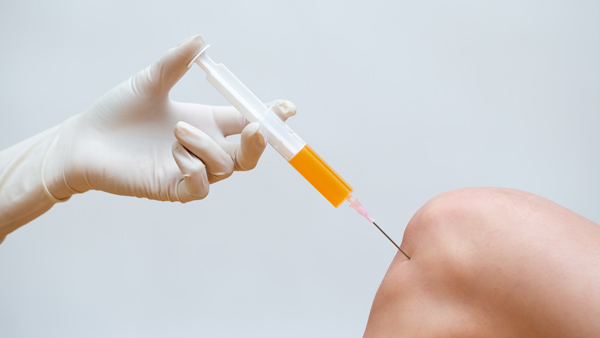 "…they are designed to help a patient's body heal itself."
Prolotherapy (RIT), Neural Fascial Prolotherapy (NFP), Platelet Rich Plasma (PRP) and Autologous Stem Cell Injection (ASCI) are targeted biologic therapies. This means they are designed to help a patient's body heal itself. The least invasive and least expensive treatment to administer is prolotherapy. All of these treatments consists of a series of injections of a numbing agent (lidocaine or procaine) and dextrose or a biologic cellular originated solution. These injections cause some inflammation and release of growth factors, which trigger the body's immune healing system to begin the healing cascade which can repair the damaged tissue or improve the symptoms in a damaged joint, tendon or ligament.
The discomfort from RIT is not treated using non-steroidal anti-inflammatory drugs (NSAIDs), like aspirin, ibuprofen, or naproxen, because these commonly used medications can hamper the body's natural healing mechanisms.
What To Expect From RIT Treatment
Practitioners of RIT expect the patient to experience some degree of pain and inflammation following a treatment particularly when the injection has been in the extremities. This shows the therapy has jump-started the patient's own healing powers and begun a tissue repair process.
The symptoms will usually go away in four or five days. If the discomfort is too great, it is treated with a non-NSAID pain medication, like codeine and/or with ice. Following this initial discomfort, the patient can see and feel a positive difference, sometimes even as early as the day of the injections but usually during the second week after treatment.

Learn More About Your Regenerative Treatment Options at the Center for Sports Medicine and Wellness.